The Philosophy of Health/Nutrition/Diet/Weight Loss,
based on the teachings of Natural Hygiene
Latest Book published:
'The Fast Way to Heal For Life'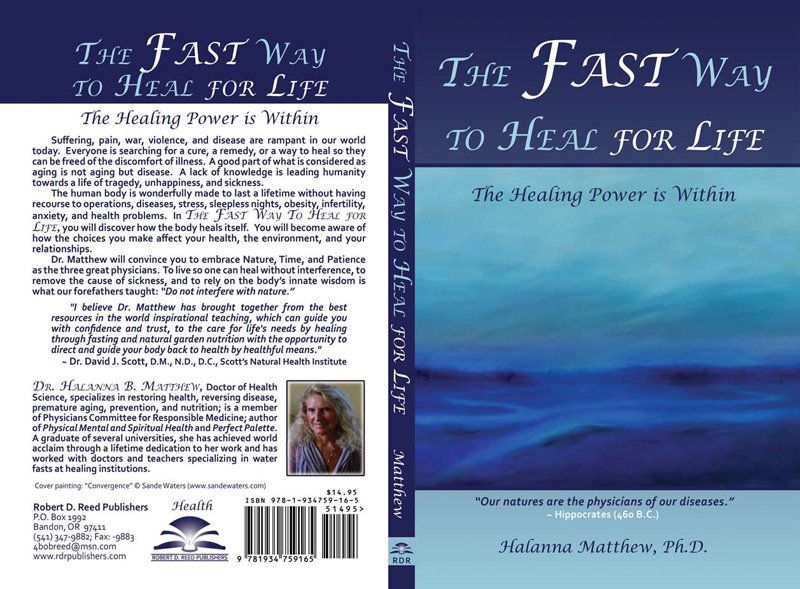 Discover how the body can heal itself, and you can remove the cause of sickness, disease, pain, obesity, sleeplessness, infertility and many other problems!
Purchase securely by credit card: $14.95 plus shipping.
---
– Other Books by Halanna B. Matthew –
* "PHYSICAL, MENTAL, AND SPIRITUAL HEALTH"
A COMPLETE PLAN FOR RESTORING AND MAINTAINING HEALTH AND WELL BEING " My greatest goal now is to pass along to you what I have discovered. This precious gift of health and wholeness is something we can all achieve through this book if we read it with an open mind and heart…
This book introduces my personal experiences of renewal in Natural Living after many years of suffering, and how, I feel healthier, stronger, and more alive than I did in my teens. Let's Educate more and Medicate less!!"
– Halanna B. Matthew
The Secrets to true health and Natural Hygiene are all contained in this book!
Everything you need to live a healthy, happy life, and you can do it from your own home!
Contact Halanna to buy this book, only $15.95!
To order this book by mail, send an international money order for $17.95 U.S. (includes shipping) to:
1196 Fulton Ave, West vancouver BC V7T 1N5 Canada
* "PERFECT PALATE"
A collection of recipes that will awaken the palate of the most discerning vegetarian!
And it's all nutritious, low fat, and great for you!
This book is in the process of being published.
Contact Us if you would like to order books by these authors, other hard to find Natural Hygiene Books, or Tapes on Healing!
Latest blog articles:
Pythagoras, a mathematical genius, 800 BC, taught that music contributed to health and if used in an appropriate manner,  meaning, healing  high frequency music,  can replace medicine., as it facilitates spontaneous healing for the body, mind, emotions, and spirit. This ancient secret  of biology and medicine, has had transformational impact on lives centuries ago, and to this date. Vibration exists at the heart of all matter in the universe. Every raindrop, crystal, rock, star,cell, plant, tree,creature, even the song of a bird, is formed  from matter that vibrates. We, humans, are vibrational organisms, and our flesh consists of a delicate trace of electromagnetic frequencies that harmonize with each other and manifest as biological matter that comprises our bodies. Today, music therapy is an established clinical discipline and is widely used  in many areas. The individual frequencies  within music support healing  of the body., which act as a form of medicine. The sound of specific frequency is able to energize, and stimulate the cells to support them back to a healthy state. Whenever we are immersed  in sound,  the membranes of our cells receive beautiful patterns, provided the sound is harmonious and healing to our ears and body. It is very important to listen to  the correct acoustic frequency to promote cellular division and stimulate  a therapeutic  response. The Pythagoran 2800 year old  hypothesis is bringing a bright future for sound, music  healing  and could alleviate many illnesses without ingesting foreign chemical substances into our bodies Listen daily to therapeutic music! Take a look at Wholetones, The Healing Frequencies, where you can listen on UTube for free to the music that is right for you! This is healing music Note: KEY FOODS FOR TODAY: GOJI BERRIES… BEST food to stimulate new growth hormones, antioxidants, ability to reproduce, for the constitution…..soak overnight, use in smoothies, juices, This is a Primary gene builder. GINSENG – (at least 7 years old..) BEST food for life force (chi) Expands brain function Expanding size of the brain, focus, concentration, memory, concentration. REISHI HELPS  brain function, memory, brain function, heart.. deep thinking, wisdom,   liver function, and skin. Remember to think of cleansing and purifying your body this spring and I am pleased to supervise you during this time, which is the secret to good health and longevity. Enjoy the snowy weekend, and , be careful driving, Many blessings, Dr. Halanna B....
read more